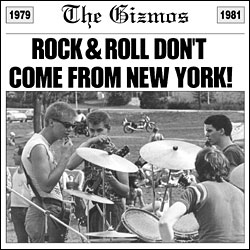 Argue with them at Southpaw, July 22.
Quibble with the Gizmos' album title if you must (their repertoire also includes "The Midwest Can Be Alright" and "I Used to Live in Indiana" and "Bible Belt Baby," and their record label is partially responsible for John Cougar), but there's plenty of evidence below to support their thesis: Austin's Honky reimagining early ZZ Top beneath a cover depicting a huge phallic neon sign, Detroit's Novadriver reimagining Hawkwind beneath a moniker that's pretty hilarious when you think about it, San Francisco's Killer's Kiss (probably accidentally) reimagining the Three Johns but peaking with the toughest version of Hoyt Axton's "Lightnin' Bar Blues" since Brownsville Station in 1973, L.A.'s Nick Castro giving incredibly stringed freak-folk the gravity of great Jethro Tull or Amon Düül II, L.A.'s Starvations and Austin's Golden Boys proving once again that Birthday Party rip-off bands beat Nick Cave's silly solo shtick any day. And then there's the Gizmos' own Bloomington, Indiana, heirs John Wilkes Booze, graduating wickedly from their EP and 45 tributes to Melvin Van Peebles, Albert Ayler, Tania Hearst, and Marc Bolan. New York's Psychic Paramount solidifying "Trans Europe Express" counts for something, though, no doubt.
---
NICK CASTRO & THE POISON TREE
Further From Grace
(Strange Attractors Kraut-rock-droned acid-folk album)
Download "Sun Song" (MP3)

---
GIZMOS
1979-1981: Rock & Roll Don't Come From New York!
(Gulcher frat-punk reissue)


---
THE GOLDEN BOYS Scorpion Stomp #2 (Hook or Crook goth-blues cowpunk album)
---
HONKY Balls Out Inn (Small Stone badass boogie album)
Stream Video "
Love to Smoke Your Weed
"
Stream Video "
Walkin' On Moonshine
"
---
JOHN WILKES BOOZE Telescopic Eyes Glance the Future Sick (Kill Rock Stars blues-punk album)
Download "
Cowboy Song
" (MP3)
---
KILLER'S KISS Killer's Kiss (Hook or Crook post-pigfuck art-boogie album)
Download "
Mama's Nightgown
" (MP3)
Download "
Let Down
" (MP3)
---
KINSKI Alpine Static (Sub Pop psychedelic drone-rock album)
Download "
The Wives Of Artie Shaw
" (MP3)
---
NOVADRIVER Deeper High (Small Stone semi-psychedelic drone-metal album)
Sample "
Satellite Night
" (Windows Media)
Sample "
Rocket Superstar
" (Windows Media)
Sample "
Spinning Into The Future
" (Windows Media)
---
THE PSYCHIC PARAMOUNT Gamelan Into the Mink Supernatural (No Quarter psychedelic semi-quasi-synth-looped drone-rock album)
Download "
Electric Guitar with Pre=Recorded Drums
" (MP3)
---
ROUÉ Upward Heroic Motive (ESR semi-psychedelic metal-punk album)
Stream "
All About Time
"
Stream "
Rockin' This Disaster
"
---
THE STARVATIONS Gravity's a Bitch (GSL goth-blues punk album)
Sample "
Whiskey Summer, Gin Fall
" (Windows Media)
Sample "
Girl Of Stone
" (Windows Media)
Sample "
Curse Of The Loner
" (Windows Media)
---
TSAR Band-Girls-Money (TVT hard rock powerpop album)
Sample "
Band-Girls-Money
" (Windows Media)
Sample "
Wanna Get Dead
" (Windows Media)
Sample "
The Love Explosion
" (Windows Media)